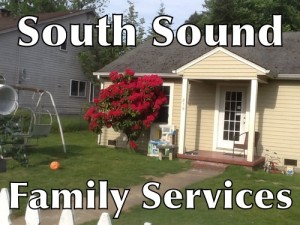 South Sound Family Services was established in 2002 as one of the first supervised visitation services in the South Puget Sound and the only service to provide a visitation house in Olympia where families can have a safe and comfortable visitation with their children in a natural home environment.
We currently serve Thurston, Mason and Lewis Counties
Our Mission
To provide the children in the South Puget Sound area secure, comfortable, and mediated visitation services that help nurture and strengthen the parent/child and grandparent/child relationships.
What We Do
South Sound Family Services is a non-profit organization that provides supervised visitation services and family services in the South Puget Sound area of Washington (currently serving Thurston & Mason Counties). Our visitation services provide a secure and comfortable environment for all types of supervised visits for infants, children and teens. Case supervisors at South Sound Family Services are educated professionals with demonstrated experience in objective supervision of visits.  Each Case Supervisor must pass a background check, have current CPR/First Aid Certification and have completed training in supervised visit procedures, child abuse reporting and objective documentation. All case information remains confidential and is only released by written consent or under court order.
The Family Visitation House
All supervised visitations take place at the Visitation House, located in downtown Olympia, Washington. Click Here to View Visitation House on Map
The house is in a nurturing and professional setting, providing a "child friendly" and comfortable environment.  The visitation house includes furniture, a kitchen for preparing snacks, toy area, separate rooms for each visitation and a fenced yard for warmer weather. The house provides a safe, neutral site for visitation between the parent(s) or grandparent(s) and children. South Sound Family Services has safety protocols that keep parents separated during visitation or exchange/drop off and therefore complies with court orders of protection and no contact orders. Case Supervisors are always present before, during and after a visitation occurs to ensure the safety of the children.